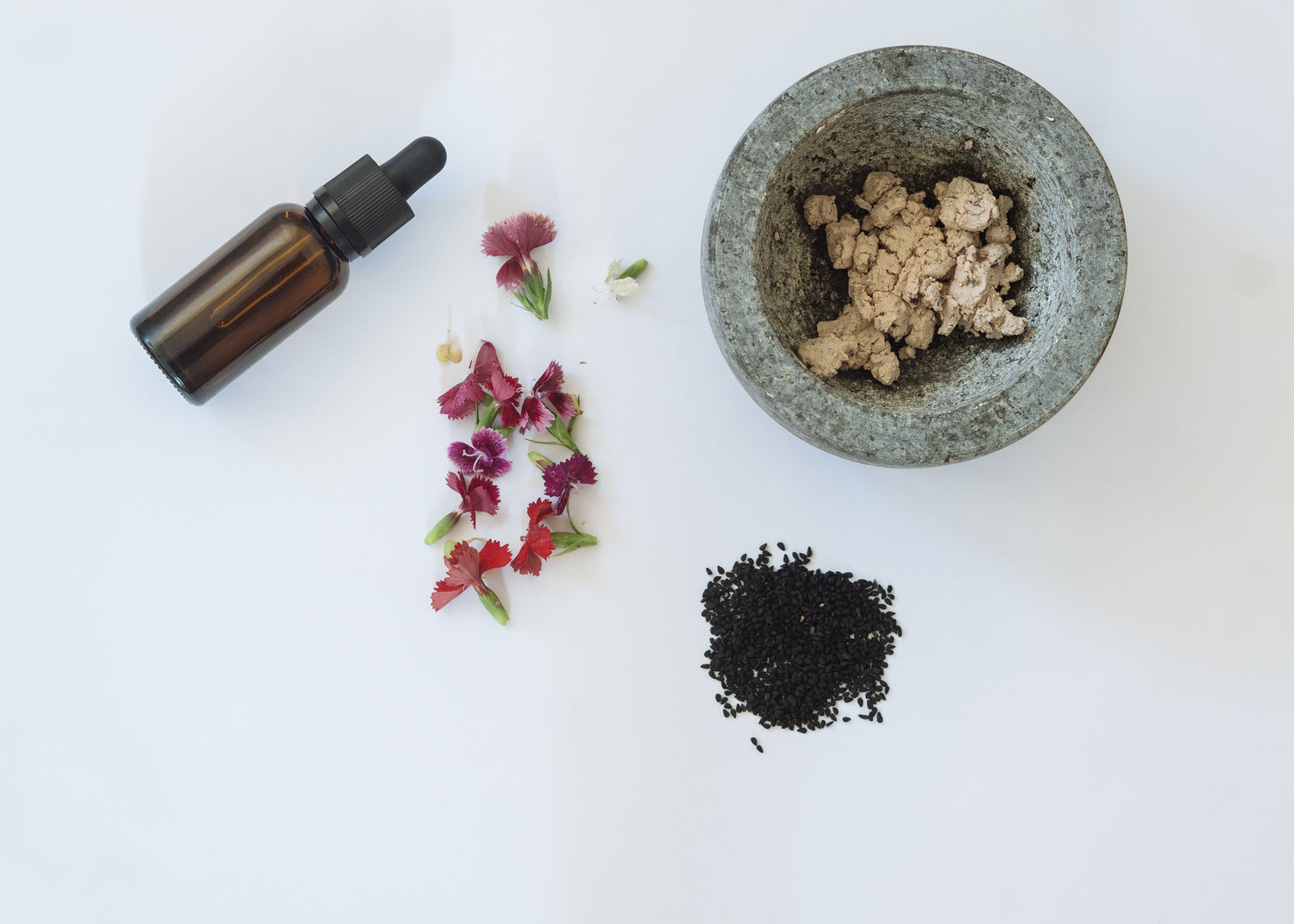 We don't believe that all ingredients are OK to put on your body as your skin soaks in around 65% of what you put on it.
One clinical study shows the average person has over 100 toxins in their bloodstream from cosmetics and detergents.
If you care about the food you eat, it's important to also care about what your skin is soaking up on a daily basis.
Clean Beauty Standards
Alexandra Calvo, our founder, dealt with terrible skin for years until she figured out that reading the back of the label is what she needed to do in order to have the complexion she longed for. Therefore, we adhere to a strict ingredient list. We follow EWG standards.
Read what Alexandra says about Synthetic Fragrances And Your Health!
Over 250 Banned Ingredients
Banned Ingredients
1-Methoxy-2-propanol

2-Bromo-2-Nitropropane-1(and) 3-Diol

2-Propenoic Acid, 2-Menthyl-Methyl Ester, Polymer with Ethenyl Acetate and 2-Ethylhexyl 2-Proponeate

4-Hexylresorcinol

Acetone

Acetyl trifluoromethylphenyl valylglycine

Alcloxa

Aluminum chloride

Aluminum Chloride Hexahydrate

Aluminum Chlorohydrate

Ammonia

Ammonium C6-16 perfluoroalkyl ethyl phosphate

Ammonium nonadecafluorodecanoate

Ammonium pentadecafluorooctanoate

Ammonium perfluorononanoate

Ammonium perfluorooctane sulfonate; ammonium heptadecafluorooctanesulfonate

Ammonium polyacryloyldimethyl taurate

Ammonium Xylene Sulfonate

AMP-acrylates/vinyl, isodecanoate crosspolymer

Beheneth-25

Benzalkonium Chloride

Benzethonium Chloride

Benzocaine

Benzophenone

BHA (Butylated Hydroxyanisole)

BHT (Butylated Hydroxytoluene) Butoxyethanol

Butoxyethanol

C12-13 Pareth-23

C12-13 Pareth-3

C9-15 fluoroalcohol phosphate

Cetylpyridinium chloride

Chlorhexidine digluconate

Chlorotrifluoropropene

Chlorphenesin

Cloflucarban

Coal tar

Cocamide DEA

Cocamidopropyl dimethylamine

Colloidal silver

Copper Disodium EDTA

Decylene glycol

DEET

Diacetone alcohol

Diacetone alcohol styrene

Diazolidinyl Urea

Dibutyl Ethylhexanoyl Glutamide

Dibutyl Lauroyl Glutamide

Dibutyl Lauroyl Glutamide/ Dibutyl Ethylhaxanoyl Glutamide/ Octyldodecanol

Dibutyl phthalate

Didecyldimonium chloride

Diethanolamine (DEA)

Diethanolamine perfluorooctane sulfonate

Diethoxyethyl succinate

Diethylhexyl phthalate

Dihydroxyacetone

Dimethyl phenylbutanol

Dimethylmethoxy Chromanyl Palmitate

Dioxolane

Disodium EDTA

Divinyldimethicone/Dimethicone Copolymer

DMDM Hydantoin

EDTA

Emu Oil

Equine Oil

Ethyl 2-cyano-3,3-diphenylacrylate

Ethyl trimethylbenzoylphenylphosphinate

Etocrylene

Fluorosalan

Formaldehyde

Glyoxal

Hexachlorophene

Hexylresorcinol

Human placental protein

Hydroquinone

Hydroxyacetophenone

Imidazolidinyl Urea

Iodine complex with ammonium ether sulfate and polyoxyethylene sorbitan monolaurate

Iodine complex with phosphate ester of alkylaryloxy polyethylene glycol

Iodopropynyl Butylcarbamate

Isobutylparaben

Isododecane

Isoeicosane

Isopropylparaben

Lead acetate

Lidocaine

Lithium perfluorooctane sulfonate; lithium heptadecafluorooctanesulfonate

Melanin

Mercury

Methacrylic Acid

Methoxyisopropanol

Methyl Nicotinate

Methyl perfluorobutyl ether

Methyl perfluoroisobutyl ether

Methyl Trimethicone

Methylbenzethonium chloride

Methylchloroisothiazolinone

Methylene bis-benzotriazoyl tetramethylbutylphenol

Methylene glycol

Methylisothiazolinone

Microbeads

m-Phenylenediamine and its salts

Myristamide DEA

Nano silver

Nature identical flavors

Nonadecafluorodecanoic acid

Nonylphenoxypoly (ethyleneoxy) ethanoliodine

Octafluoropentyl methacrylate

Octinoxate

Octyl methoxycinnamate

Oleamide DEA

o-Phenylenediamine and its salts

Oxybenzone

Paraformaldehyde

PEG/PPG/Polybutylene Glycol-8/5/3 Glycerin

PEG-30 Dipolyhydroxystearate

Pentaerythritol tetrakis(3-(3,5-di-tert-butyl-4-hydroxyphenyl)propionate)

Pentafluoropropane

Perfluorodecalin

Perfluorodimethylcyclohexane

Perfluorohexane

Perfluoroisohexane

Perfluorononanoic acid (PFNA)

Perfluorononyl dimethicone

Perfluorononylethyl carboxydecyl PEG-10 dimethicone

Perfluorooctane sulfonate (PFOS); heptadecafluorooctane-1-sulfonic acid

Perfluorooctanoic acid (PFOA)

Perfluorooctyl triethoxysilane

Perfluoroperhydrophenanthrene

Phenol

Phenylethyl resorcinol

Phthalates

Picaridin

Piroctone Olamine

Placental protein

Poloxamer 188

Poloxamer 338

Poloxamer 407

Poloxamer—iodine complex

Polybutylene terephthalate

Polyester-8

Polyethylene Terephthalate

Polyimide-1

Polyoxymethylene urea

Polyperfluoroethoxymethoxy Difluoroethyl Peg Phosphate

Polyperfluoroethoxymethoxy PEG-2 phosphate

Polyperfluoromethylisopropyl ether

Polyurethane-14

Polyurethane-33

Polyurethane-62

Polyvinyl chloride

Potassium perfluorooctanesulfonate; potassium heptadecafluorooctane -1-sulfonate

Povidone-iodine

PTFE

Quaternium 15

Saccharin and its sodium, potassium, and calcium salts

Salt of Dodecylbenzene Sulfonate

Secondary amyltricresols

Sh-oligopeptide-1

Silver

Silver chloride

Silver Citrate

Sodium Bisulfite

Sodium coceth sulfate

Sodium heptadecafluorononanoate

Sodium Hydroxymethylglycinate

Sodium magnesium fluorosilicate

Sodium nonadecafluorodecanoate

Sodium Oxychlorosene

Sodium xylene sulfonate

Soyamide DEA

Synthetic Fluorphlogopite

TBHQ (tertiary butylhydroquinone)

Tetrafluoropropene

Dyes/bleach

Plastic beads

Toluene

Tosylamide epoxy resin

Tribromsalan

Triclocarban

Triclosan

Trideceth-6

Triethylene glycol

Trifluoroacetyl tripeptide-2

Triple dye

Trisodium EDTA

Undeceth-5

Undeceth-11

Undecoylium chloride iodine complex

Vanillyl Butyl Ether

Whale oil

Zinc pyrithione